A Guide to Broadband in a Shared House
Written by Charlotte Sides

Broadband and WiFi are pretty much everywhere – at uni, in McDonalds, in Starbucks, and even in bars and pubs. Whether you're just about to move out of your parents' house or halls, setting up the internet in your new gaff is a necessary step for any student.
Rather than leave you to figure it out on your own, we've pulled together a guide to broadband in a shared house to make things a little easier and a whole lot less stressful for you.
A Few FAQs
Question 1: Do I actually need broadband in my house?
Answer: If you want to access the internet (without racking up a data bill on your mobile), yes, you do.
Whether you just Google the odd uni question and browse social media, binge watch Netflix for 72 hours straight, or like to take part in intense online gaming tournaments, you're going to need to get broadband sorted in your house.
Question 2: What's the difference between WiFi and broadband? (And how do I set them up?)
Answer: Broadband and WiFi are often used to mean the same thing, but there is a difference.
Broadband
To get access to the internet in your gaff, you'll need to sign up with a broadband provider. They'll pipe broadband into your house via your telephone line (you'll either already have one installed or your supplier might have to come out and fit one). Having broadband supplied to your gaff means that you can then set up WiFi.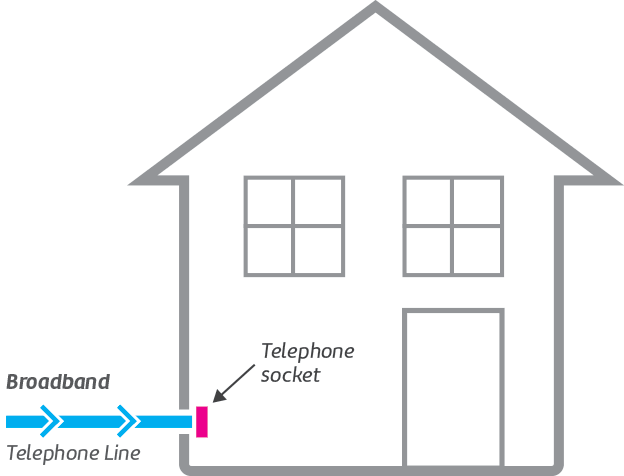 WiFi
Once you have broadband set up, your supplier will send out a wireless router (a box with flashy lights) through the post so that you can have WiFi (wireless broadband) in your house. Once you've got your wireless router, all you need to do is plug it into the mains and into your telephone socket. When you switch the router on, it'll beam WiFi throughout your house. You can now connect your phone, your laptop, your tablet, and games consoles. The name of the WiFi connection and the password will be on a sticker on the side or bottom of your router. Easy peasy!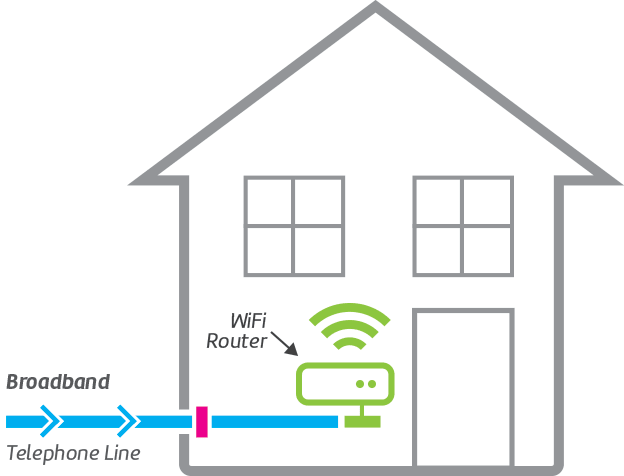 Question 3: What speed internet do I need?
Answer: So, you know that 100Mbps is essentially twice as fast as 50Mbps, but how do you know how many Mbps you actually need?
Standard broadband connections will offer up to 50Mbps. If you're in a fibre broadband area, you will have the option to go up to around 350Mbps.
Follow our rough guide below to help choose your broadband speed.
Google & Social Media
1 to 2 Housemates – Up tp 100Mbps
3 to 4 Housemates – 100Mbps
5+ Housemates – 200Mbps
Google, social media, Netflix, iPlayer, YouTube, or any other video streaming service
1 to 2 Housemates – 100Mbps
3 to 4 Housemates – 200Mbps
5+ Housemates – 300Mbps
Google, social media, any other video streaming service & online gaming
1 to 2 Housemates – 200Mbps
3 to 4 Housemates – 300Mbps
5+ Housemates – 300Mbps
Here at Split The Bills, we offer super fast broadband speeds (up to 350Mbps).
Question 4: What is Fibre broadband? (And do I actually need it?)
Answer: Fibre broadband is a new type of superfast broadband technology. Instead of using old copper wires, fibre optic wires (made of flexible glass) are used to speed up your internet. Not all areas have access to this yet, but soon, it'll be everywhere.
Because you and your housemates probably have a phone, a laptop, and possibly a tablet each, you might want to look at fibre broadband (if it's available in your area). It's not that much more expensive and it means you won't find yourselves stuck with the loading wheel of death in the middle of the Game of Thrones finale while your housemate is trying to revise online.
Question 5: Can I use the internet as much as I like?
Answer: Watch out for usage limits. When you're sharing a house a load of other people, the last thing you want is to run out of data allowance (just like you would on your mobile). If you're sharing a house with any avid gamers (or are a gamer yourself), make sure you find a package with unlimited usage allowance.
Most packages nowadays do offer unlimited usage, but make sure you check before you commit to anything. It'll probably cost more in the long run to keep going over your allowance than to pay for an unlimited package in the first place.
All our packages have unlimited usage so you and your housemates can watch Netflix, do uni research, and game as much as you fancy.
Getting Started
Setting up your broadband with Split The Bills is super easy, plus you can sort your gas, electric, water and TV licence at the same time.
Get started with Split The Bills to get your mitts on superfast broadband. We'll take the hassle out of shared student bills so you can get on with the exciting stuff.
If broadband is still boggling your mind, have a chat to the Split Squad. They'll help you work out exactly what you need and how to get set up.
Jargon Buster
The broadband industry is jam-packed full of buzzwords and jargon (and the odd made-up word). It can make choosing and setting up broadband way more complicated than it should be. Here's a quick jargon buster guide to help you out:
ADSL/Standard Broadband: A high speed, permanent internet connection that has replaced the good old days of dial-up.
Download Speed: The download speed tells you how quickly data can be downloaded from somewhere else to your device. It's the most common way of indicating how fast a broadband connection is.
Fibre Broadband/Optical Fibre: A new type of superfast broadband technology. Not all areas have access to this yet, but soon, it'll be everywhere.
Fixed Contract: A contract that lasts for a set period of time, usually 12 months.
Line Rental: This is a fee that you may have to pay for the rental of the phone line. Even though you probably have no need for a house phone, some broadband providers require you to pay monthly line rental on top of your broadband fee.
Mbps: Stands for megabits per second and is a unit for measuring download and upload speed.
Rolling Contract: A contract that doesn't have a set cancellation date. A rolling contract will probably end 30 days after you request to cancel it.
Router: A router is a device that connects all the devices in your house to the internet. You want a wireless router otherwise you'll have to plug your laptop into an ethernet cable and there's no hope for your phone or tablet.
Setup/Activation Fee: A one-off fee to set up your broadband connection with a new provider.
Upload Speed: The upload speed tells you how quickly data can be uploaded from your device and sent to somewhere else. It's not common to see upload speed used as an indicator of broadband speed as most connections are optimised for fast downloading. You only need to worry about upload speed if you're a heavy gamer.
Usage Allowance: This is the maximum amount of data that can be used monthly (just like the data allowance on your phone). Most broadband packages now offer unlimited usage allowance, but make sure you check.
WiFi: WiFi is just wireless broadband and is pretty standard nowadays. If you have a wireless router, you'll have WiFi.