A Guide to Water in a Shared House
Written by Charlotte Sides

Sorting out your water bill isn't quite as complicated as energy and broadband, but it can still get a bit confusing (especially if you've never had to go it alone before).
Rather than leave you to figure it out on your own, we've pulled together a step-by-step guide for water first-timers to make things a little easier and a whole lot less stressful for you.
Not got time to faff?
If you fancy skipping the step-by-step guide, let Split The Bills sort your water for you. You don't have to bother finding out who your supplier is (we'll do that for you) and we can set up all your other shared bills at the same time.
Right. If you still want to go at it alone, onto the guide…
Step-By-Step Guide: Sorting Your Water
Step 1: Find out who your water supplier is.
Water isn't like energy and broadband – you don't get a choice when it comes to your supplier. The first step in sorting your water is finding out who your supplier is.
Check out the map below to see who your supplier will be. If your map skills aren't up to scratch, just Google "water supplier [your area]".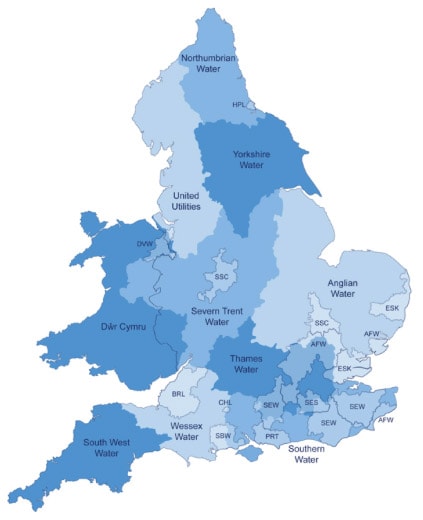 Step 2: Find out if your new gaff has a water meter.
Some houses have a water meter, some don't. You'll need to find out whether or not you have a water meter so make sure you ask your landlord.
If your new gaff has a water meter, you'll only pay for the water you use and you'll have to submit regular meter readings to your supplier. If your gaff doesn't have a water meter, you'll pay a set fee each month regardless of how much water you use.
Step 3: Sign up with your supplier.
Once you've found out who your supplier is and whether or not you have a water meter, head to their website and register as a new customer. They'll ask you for your details, details about your new gaff, and will ask you to set up a direct debit.
And there you have it!
Step 4: Paying for your water.
Like with energy, you're liable to pay for the water costs for your house for the duration of your tenancy (even if you've not moved in yet). If you've left it a little late to sort, water companies can (and will) backdate your payments to your tenancy start date.
Step-By-Step Guide: Taking a Water Meter Reading
If your new gaff does have a water meter, one of the first things you should do when you move in is take a meter reading. That way, you won't end up paying for the previous tenants' water. You should submit meter readings regularly (your supplier will remind you) so that you get accurate bills and don't end up with a mahoosive bill and the end of the year.
So, onto taking a meter reading…
Step 1: Locate your water meter.
This is a pretty important step and is probably something you should ask your landlord as soon as you move in. It'll probably be somewhere pretty hidden like under the stairs, in the basement, or even outside.
How to tell the difference between you water, electricity, and gas meters:
First off, look at the units of measurement. Water is measured in cubic meters (㎥) or cubic feet (ft³), electricity is measured in kilowatt hours (kWh), and gas is also measured in cubic meters (㎥) or cubic feet (ft³) . Your water meter might have a water droplet graphic on and gas meters all tend to have a warning on saying "if you smell gas, please call this number".
Step 2: Make a note of the numbers on the meters.
On the front of each meter there will be a display of numbers. They will probably look something like this:

Read the numbers from left to right and ignore any numbers in red, any numbers after the red, and anything that appears after a decimal point. Include any 0s at the beginning. If the number on the far right (ignoring the red digit) is halfway between two numbers, always pick the lower number.
Step 3: Submit your meter readings.
Once you've read your meter, it's time to submit the reading. You can do this online with most suppliers, or failing that, just give them a call.
If you've set up your water with Split The Bills, you can either log in to your portal online and submit your reading or drop us an email or call. We'll sort the rest out for you.
Still Struggling?
If water is still boggling your mind, have a chat to the Split Squad. They'll help you work out exactly what you need and how to get set up.